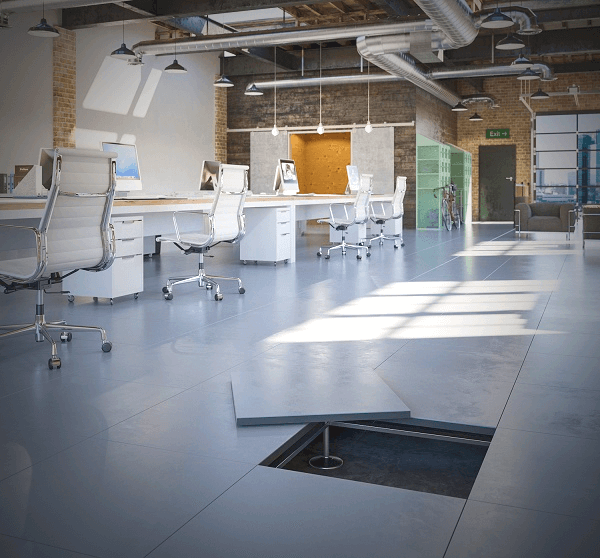 4.0, the customizable lifted pavement
28 February, 2019
4.0 is the new deck lifted the customizable TECNITILES by Nesite with pigmented resin finish. The distinctive features of this new product are due to finish your, that offers a wide variety of colors and finishes. The 4.0 makes it possible to Customizing the pavement with various shapes and colors.
What's your composition?
This new deck lifted consists of calcium sulfate panels of high density. The top cover is made with a heterogeneous resin made from pigments dispersed. After dry, these pigments form a resistant film and shock-proof. The components of this pavement are 100% recyclable!
Customize your environment with the raised flooring 4.0!
The Panel 4.0 offers the possibility to customize the colors or choose from the colour code RAL. In addition to the color, You can also choose any theme and adapt it to the environment that is developing.
Below are some examples of chromatic possibilities and finishes.
Concrete Line
Plain Line
With the Panel 4.0 You can choose:
The color
You can choose from color samples or RAL color code.
Opacity
The Panel 4.0 is available in brilliant, semi-bright and opaque
Finishing
The finish can be default, with relief, or with higher slip resistance
Design
You can customize the design of the floor with drawings available for you and suitable to the project that is developing.
In short, are several reasons for choosing the 4.0 ! Here are the 4 more reasons we highlight:
1. Chromatic versatility and finishes;
2. Good wear resistance, keeping the initial appearance over time;
3. Does not contain chemicals hazardous to health;
4. Is 100% recyclable, what contributes to achieve the LEED rating.
Want to customize the lifted floor of your projects? Contact us and meet the 4.0!